Meet Mervi Rankila-Källström, from Turku University of Applied Sciences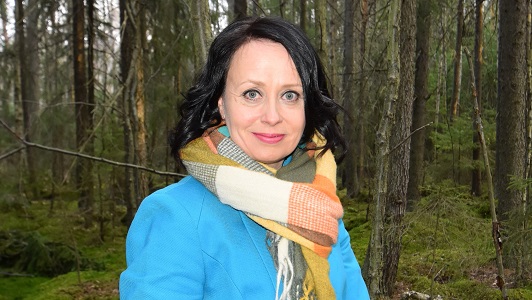 Today, we are very happy to tell you a bit more about our Finnish partner: Mervi Rankila-Källström, from Turku University of Applied Sciences
Who are you ?
I´m Mervi Rankila-Källström from Finland. I live in South West Finland near Turku in Raisio. As many Finns, I live near a forest where I go every day.
What do you do professionally ?
I work as a Senior Lecturer at Turku University of Applied Sciences. My field is Performing Arts, especially theatre. I teach theatre students. I also work as a research group leader in Art Education and Pedagogy. The Art Education and Pedagogy research group focuses on short and long-term development needs of the field of Arts and Culture on regional, national and international levels. Art Education and Pedagogy has a two-fold aim: on the one hand to look at the communication between humans and art from a theoretical point of view and on the other hand, to work on concrete projects, with the aim to create networks, methods and processes.
Why do you work on projects with migrants? What are your personal motivations ?
One of the central goals of my work is to make education and art belong to everyone and make them accessible. This is how we also think as art educators at the Arts Academy. "Getting Ustuck" is the third project we are doing together with migrants. It has been important to learn from them what is going on in their lives and what challenges they face in their new home country. While many migrants are progressive, energetic young people they also face discrimination and racism. Education and art-based methods can promote understanding and empathy between people.
My own aunt once worked as a nurse in crisis areas around the world in the Middle East, Myanmar and Rwanda, among others. As a child, I heard about her work and people's lives in the midst of crises. I decided then that I myself wanted to contribute to people's survival in life in some way. Art and theater in particular became my "path." I believe that everyone can use art to find ways to move forward in their lives despite the difficulties.
What is your general approach on the relations with migrants at the Arts Academy ?
In general, our attitude towards migrants is positive. It is important to promote inclusion at all levels of society. As educators, we think a lot about how young people with an immigrant/migrant background would find art education. Therefore, art projects at different levels of education from primary school to university are paramount. Migrants, like other citizens, are reached through encounters.
How do you think can the Getting Unstuck project help artistic teams who work with migrants and migrants themselves ?
An art professional has creativity, empathy and the ability to meet different people. We know how to empathize with another. Getting Unstuck is a project where we together promote listening skills as well as learning good working practices. It is important to highlight stories as well as facts that immigrant young people, among others have to tell. In this matter, we focus on how to move forward in life and create faith in the future. I trust that we will create art-based methods that work together, as well as performances that promote our mutual understanding.